Jeffrey Zeldman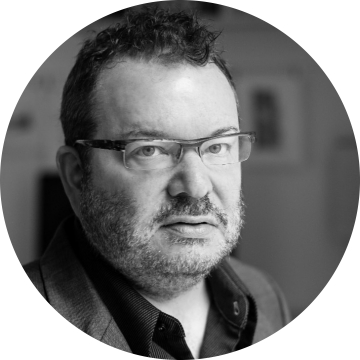 Designing and blogging since 1995, Jeffrey Zeldman founded A List Apart in 1998 and Happy Cog design studios in 1999; co-founded the web design conference An Event Apart; co-founded and publishes A Book Apart; wrote the industry-changing front-end bible Designing With Web Standards, (now in its third edition); teaches in the MFA Interaction Design program at School of Visual Arts NYC; and hosts The Big Web Show, an internet radio spectacular.
Appearances
Episode

115 Predicting the future
The landscape of what's possible in web page layout is changing. Jen has a theory that this change will be a big one — perhaps the biggest change to graphic design on the web in over 15 years. Rachel, Jeffrey, and Eric join her to debate if that's true or not, and to surmise what the future might bring. This special episode was recorded live at An Event Apart Nashville.
Episode

100 Designing the Web
For episode 100 of The Web Ahead, we have Jeffrey Zeldman, the Godfather of Web Standards (or Web Design, depending on who you ask), to talk about the past, present and future of making things for the web. We debate the pros and cons of everything from parallax scrolling to data mining.
In This Episode
How the web standards movement changed web design forever
What are the current web design trends? What's next?
What lessons have we learned as an industry, doing things in a way that turned out to be a bad idea? What anti-patterns should we be avoiding?
How do we create great, even innovative design for the project on which we are working, and not chase empty trends?
Form v. function
How do we keep up?
How does one create great web design?
Are we thinking carefully about the kind of world we are creating with the work we design?
What are the harder conversations that we should be having?
What's the downside, and responsibility, of big data?